We are no longer taking orders for 2014 package bees. We will begin taking orders for 2015 on November 1, 2014.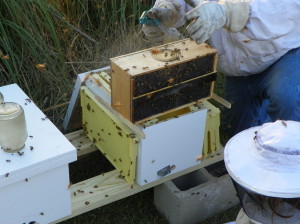 Our bees are Minnesota Hygienic Italian, and our "3 lb" packages are loaded with extra bees and one of our beautiful mated queens. Our queens in our package bees are not marked or clipped, but these queens are so healthy, they are very easy to identify in the hive.
Exact pick up or ship dates have not been determined at this time, but we are optimistic that our spring shipments will begin around the second week of March 2014. Early customers will receive the first available shipment or pick up dates.
Please give us a call to order Package Bees (229) 386-0123
Product not in stock

Old Price: $149.00

Price: $119.00