We are taking orders for 2013 package bees.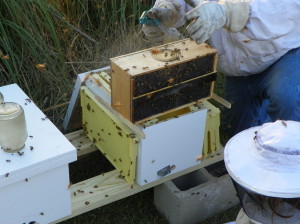 Our bees are Minnesota Hygienic Italian, and our "3 lb" packages are loaded with extra bees and one of our beautiful mated queens. Our queens in our package bees are not marked or clipped, but these queens are so healthy, they are very easy to identify in the hive.
Exact pick up or ship dates have not been determined at this time, but we are optimistic that our spring shipments will begin around the second week of March 2013. Early customers will receive the first available shipment or pick up dates.
In order to better accommodate our customers, our pick up days will be on Saturdays, as we realize it is difficult for some of our customers to drive to our office during their busy work week. 
We will ship bees via USPS Priority Mail, UPS Next Day Air, or UPS 2nd Day Air. No Shipments to HI
There are no products in this group.