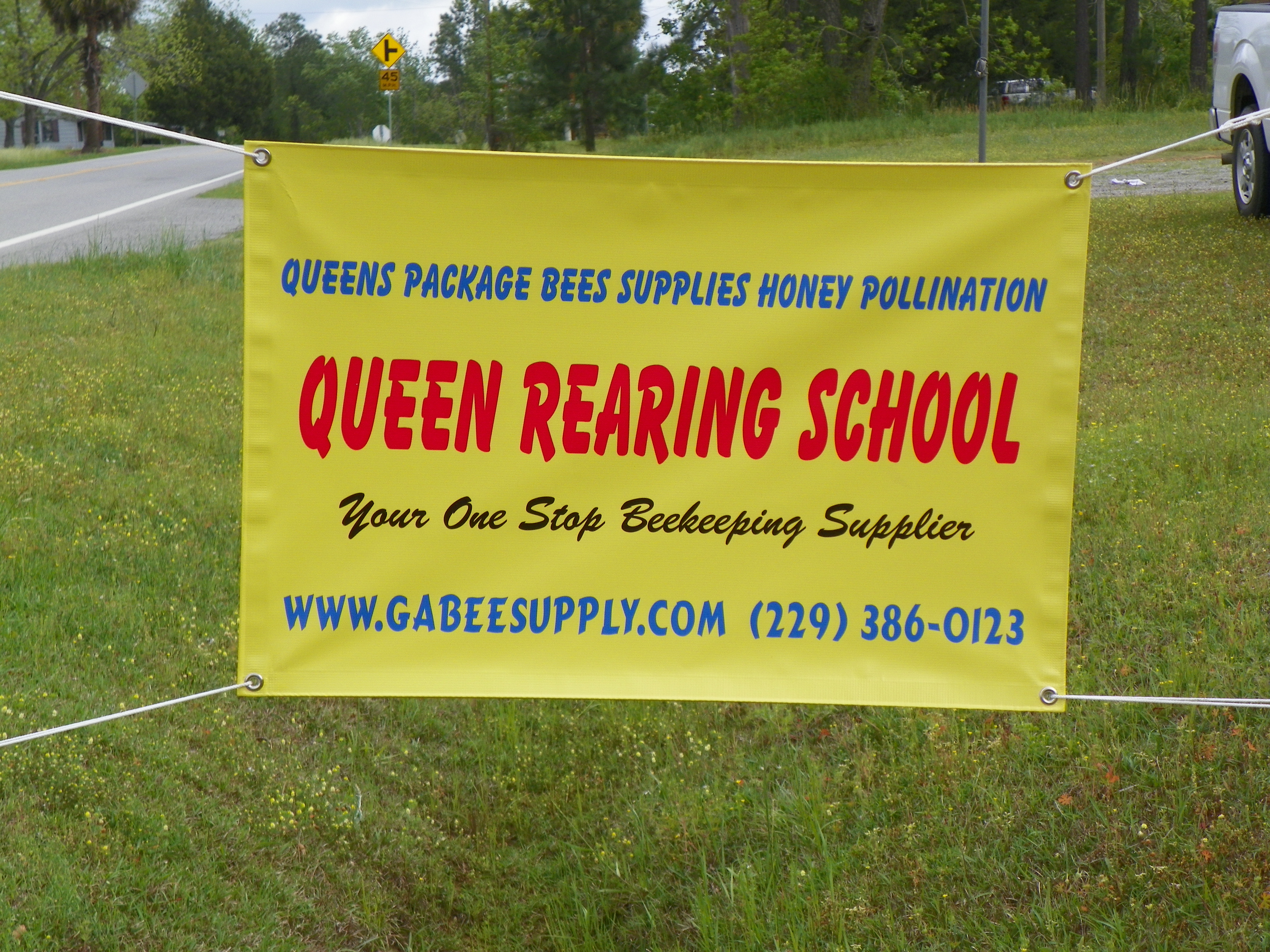 HONEYBEE QUEEN PRODUCTION SCHOOL
This is a 2 day class to be held at the community house in Waterloo GA, Beginning Friday March 29th, 2014 at 9:00 AM.
      Our company is known for producing the very best queens and package bees that money can buy. Our reputation for breeding top quality honeybee queens spans the entire USA.  Every state in the USA, with the exception of HI which does not allow bees shipped in, has several of our satisfied queen customers.
         After having several beekeepers, clubs, and associations showing interest in learning about the production of queen honeybees. We have decided to structure a queen production school to be held in Waterloo GA, near our queen operation. The academics will be in depth, with step by step training, covering the entire process and procedure we have developed over the past twenty years. They will match the very same process used in our commercial operation. Entailing easy to understand class room and hands on instructions, taking students from the breeder queen, grafting, all the way through the entire process to harvesting verified mated queens. The knowledge students acquire with these academics is invaluable, and will enable them the option of producing a few queens, or hundreds on a commercial scale.  Since the process is the same, the sky will be the only limit for them.
CLASS DAY 1
The subjects for the first day of class are, General Scope Of Queen Breeding, Queen Production Tools, Making A Queen Production Calendar, Breeder Queens, Breeder Hives, Breeder Frames, Making Up Starter Hives, Preparing For The Graft, The Cell Bars, The Wax Melter, The Cell Cup Jig, Making Wax Queen Cell Cups, Welding Cell Cups Onto Cell Bars, Plastic Cell Cups and Cell Bar Frames. The above tasks will be done in a way that every student gets hands on experience until they have the process mastered. Since the students will be enrolled well in advance of the class date, we will have enough equipment so that a class of up to 25 students can be divided in groups of 10 and given plenty of time to learn and be comfortable with each task. In completion of the first day of class, we will perform an actual graft so that every student has the chance to graft larvae from a breeder frame into the cell cups, which have been made by the students. They will put their grafts into the starter hives. Afterwards the students will participate in staging up finisher hives, return to the class for open discussion, recap summary and be dismissed for the day.
CLASS DAY 2
The subjects for the second day of class are, Hair Roller Cages, Harvesting Virgin Queens or Using Ripe Queen Cells, Making Queen Candy, Queen Cages, Bank Frames, Banking Virgin and Mated Queens,   Mating Nucs, Harvesting Queens, Battery Boxes, Marking and Clipping Queens, How to Market and Ship Queens.
The above task will be done in a way that every student gets to make queen candy and make up both types of queen cages. Then they will suit up and remove the grafts from the starter hives from the day before, do a cell count of started cells and place them into the finisher hives. The rest of the process will be covered in the classroom as it will be the 14th day before the hair rollers/harvesting ripe cells can be done, the 16th day when the cells are due to hatch, and the 18th day when it is time to harvest the virgin queens to be banked or introduced into a mating nuc. Also covered will be the subject of mating nuc management and knowing when to harvest the mated queens. How to mark and or clip queens. The use of battery boxes, how to ship virgin or mated queens. All of which is covered in detail inside the students manual which they keep as part of the class. Next will be an open discussion on queen production, and graduation certificates being issued to each student.
POLICY & RATES
Each student will be required to have sent in their enrolment form with their class fee and have it in our office thirty days prior to the scheduled class date. Due to cost, we reserve the right to cancel in advance, or reschedule for another class date, any class which does not have enough enrolments to warrant giving a class. If your class is completely canceled we will issue a refund. Please be sure this is what you want to do before enrolling. There will be no refunds other than previously noted.  If a student has a problem, and can't make the class, a credit will be issued to that student so they can attend the next available class. Payments are to be made out to Georgia Bee Supply in the form of check or money order and mailed to: Georgia Bee Supply, 196 Tugaloo Circle, Chula, GA 31733. We also accept Visa, MasterCard, or Discover, and PayPal. You can also check out on our website to enroll. 
The cost of the school is $250.00 per student. (Min of 12 enrolled students required) We are looking forward to extending our queen production methods to you and hope to see you in the classroom. The knowledge you will gain in this class will last you a lifetime, enabling you to expand and greatly increase your profits in beekeeping. You will only need to raise a few queens to overcome your cost of participating in the class. The queen honeybee is the heartbeat of the hive, and a beekeeper that can produce their own queens is unstoppable. Looking forward to meeting you and working with the bees together.
This class is held by: Georgia Bee Supply LLC
This is a 2 day class to be held at the community house in Waterloo GA, Beginning Friday March 28, 2014 at 9:00 AM.   
Please Be Sure To Sign Up and Send In Your Payments 30 Days Prior To The School Date